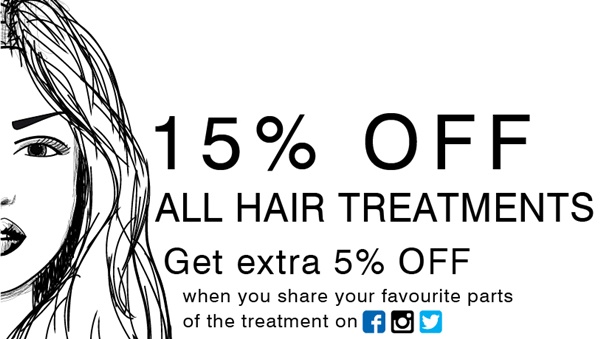 AUG
01
From 01 August 2016 - 31 August 2016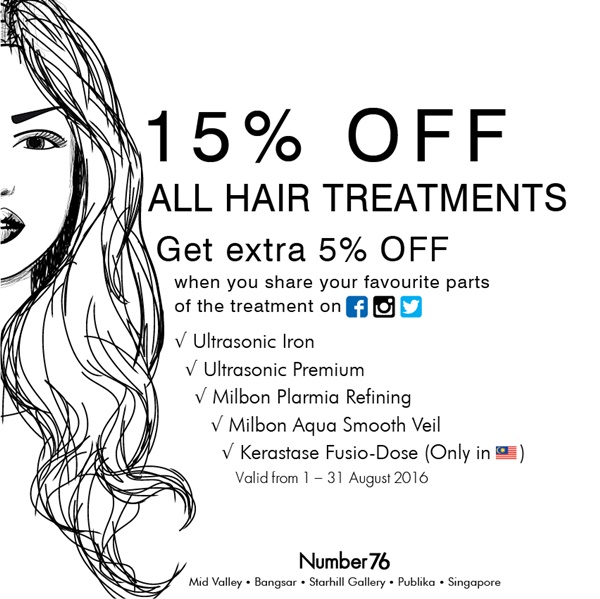 Happy August everyone!
Hair treatments are really important to ensure the vitality and level of nourishment for our hair to stay balanced. This month, we are giving out 15% off when you get yourself a hair treatment at the hair salon. In case you are unfamiliar with the hair treatments that we offer, here are the list of hair treatments that you can find at Number76 Hair Salon.
Ultrasonic Iron RM265
Ultrasonic Iron Premium RM370
Plarmia Refining RM200
Milbon Aqua Smooth Veil RM170
Kerastase Fusio- Dose RM190
* Price is before discount.
That's not all, earn yourself an extra 5% off when you share your favorite part of the treatment on either one of your social media platforms, Facebook, Instagram and Twitter.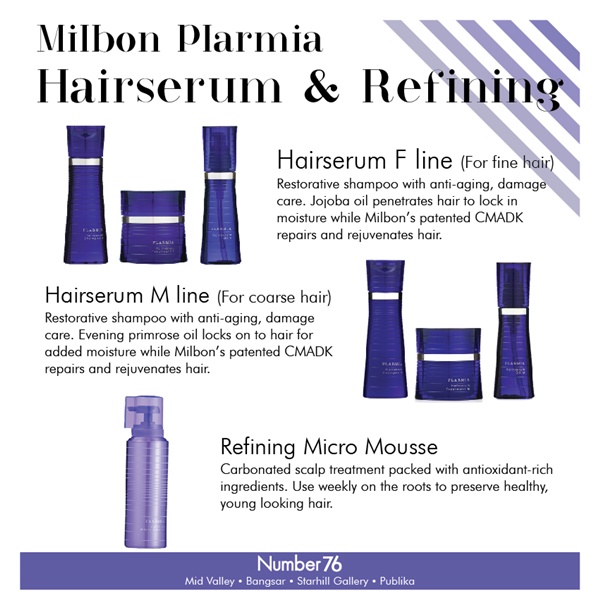 AUGUST STAR PRODUCT

Last month, we introduced Milbon's Hair and Scalp treatment, Plarmia Refining, focusing on anti-aging and damage care. The response was so overwhelming and it seems so many of you enjoyed it. Now, you can continue enjoying the wonderworks of these treatment at home with its hairserum and refining series. With Milbon signature secret ingredient, CMADK( CarboxyMethyl Alanyl Disulfide Bond) and Soybean as an antioxidant, this goodie helps give greater resilience to your hair with each use.
Hairserum F Line (Cater For Fine hair)
This hairserum is formulated with jojoba oil which helps penetrates the interior and locking in moisture for repairing.
Hairserum M line (Cater For Coarse hair)
Formulated with evening primrose oil which remains on the hair shaft, locking in moisture for repairing.
Refining Micro Mousse
This carbonated scalp treatment is packed with antioxidant-rich ingredients, helping to preserve healthy, young looking hair from the roots.
If you unsure which hairserum series to use, feel free to check with your stylist when you visit Number76 for consultation.
From 1 August 2016 to 31 August 2016, get 5% off when you purchase any of the products from this series at all Number76 Hair Salon Malaysia.
So, if you in need of a hair pampering session,
book
your appointment with us now.