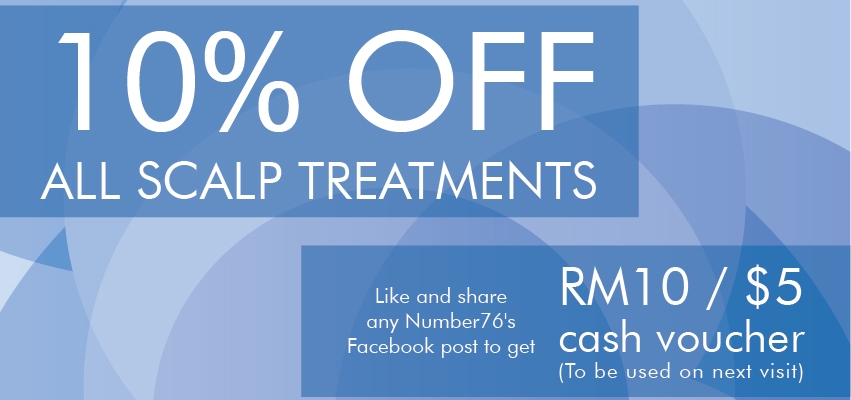 MAY
01
From 01 May 2016 - 31 May 2016
Happy May! With this hazy and dry weather, treat your scalp to a good and nourishing treatment.
This month, enjoy all SCALP TREATMENTS at 10% OFF!
If you don't know which scalp treatment is right for you, fear not! Upon your visit at Number76 branches, you can request for a free microscope scalp scan to check on your scalp condition. Here's a list of the scalp treatments that you can find at Number76.
Kerastase Calming
- Soothes and calms discomfort on sensitive scalp.
- Cooling sensation reduces itching, redness, and tingling.
- Increases scalp tolerance against external aggression.
Kerastase Purifying
- Deep cleanses with anti-dandruff benefits.
- Micro-beads purify, exfoliate, and hydrate scalp.
- Controls recurrence of dandruff issues.
- Refereshes and regenerates scalp.
Milbon Plarmia
- Gently removes build up, dandruff and excess oils.
- Infused with antioxidants and anti-inflammatory ingredients.
- Hydrate and moisturize dry, sensitive scalp.

Also, if you like and share any of Number76 Facebook post and you will receive RM10 cash voucher.
The voucher can be used on your next visit for any normal-priced products and/or services.